Biwaichi Basics
Biwaichi Route Info
Total Route Time & Distance
The Biwaichi route encircles Lake Biwa, Japan's largest lake, in Shiga Prefecture. The lake is divided into a southern part (Nanko) and a northern part (Hokko) by the Biwako-ohashi Bridge. A lap of the complete Biwaichi route, including both Nanko and Hokko sections, is about 200 km, while a lap of only the northern Hokko route is about 150 km. Choose whichever route you prefer. Either route could potentially be completed in a single day by an advanced cyclist. But taking a slower place over multiple days is recommended for exploring more of the scenery, food, and culture along the route to enjoy the local charm.
Best Seasons
Considering the temperature, climate, and wind, the best seasons would be early summer (especially in May) or fall. From mid-June to mid-July is the rainy season here, so it's not as highly recommended. And the peak of summer from mid-July through the end of August is even less ideal since the temperatures can be quite extreme and riding long hours can involve a high risk of heat stroke. Summer cyclists must take appropriate measures and cautions. The northern area of the lake can get a lot of snow in winter, so cycling conditions may be poor during the snowy season as well.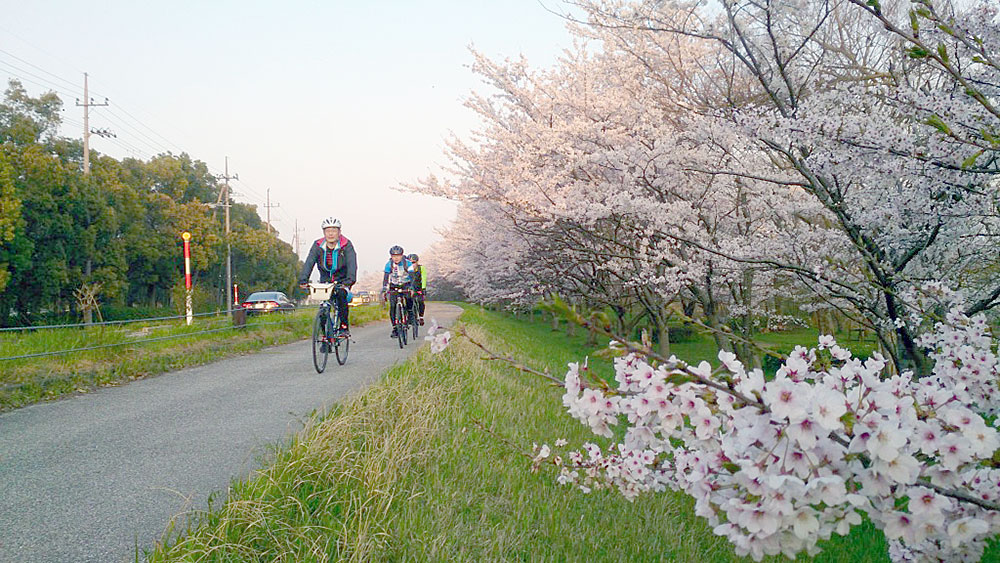 Daily Schedule Planning
We recommend planning to start as early in the morning as possible and finishing before dark to rest and relax in the evening. This should give you the mental and emotional energy you'll need to react appropriately if any unforeseen trouble arises during your trip. It is strongly advised not to proceed after dark. Beyond the issues of visibility, there is also a much greater chance of getting lost due to unfamiliarity of the area. Moreover, if you don't reach your planned checkpoint before dark, you may feel rushed and speed up, which further increases the risk of sudden accidents.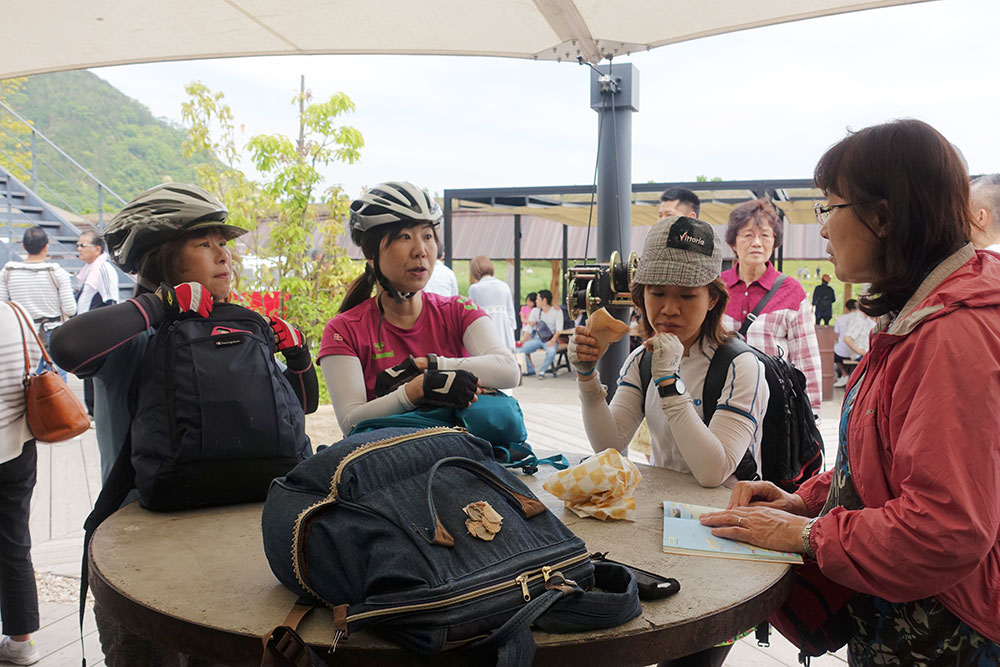 Locating your Lane
Vehicles and bicycles travel on the left side of the road in Japan. So courses around lakes here are usually taken counterclockwise by cyclists, and clockwise for riding around islands. This allows the closest ride to the coastline with a better view to enjoy the scenery, and fewer intersections to cross. Designated pedestrian / bicycle paths are laid out along most of the eastern coastal route, so follow these guides with caution for pedestrians.
There are two designated lanes according to the pace or level of cyclist: a "Slow Course" which uses the shared path for pedestrians and cyclists (as noted above) for beginner to intermediate level cyclists to enjoy the trip at a relaxed pace, and a "Advanced Course" for advanced cyclists riding alongside vehicles on the left side of the road.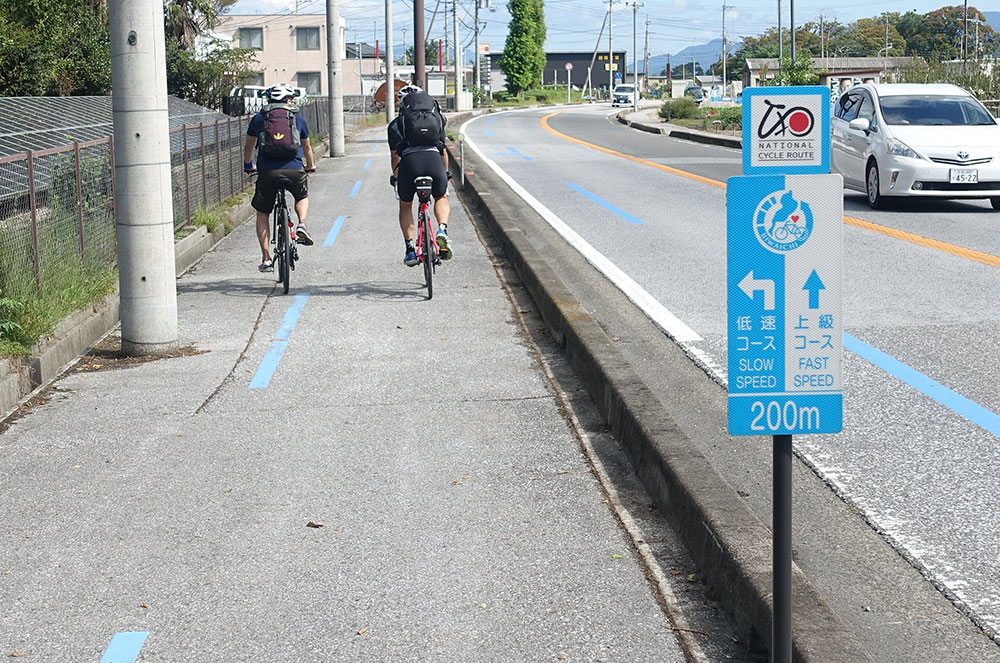 Route Conditions
The route is generally flat but there are some ups and downs around the northern area, from Kinomoto to Shiotsu, and Shiotsu to Nagahara, since the route goes further inland in these areas. Yet, the eastern side of the lake, from Otsu Port up to Kinomoto is a flat path along the lakeshore. Along the lake's west shore, between Takashima and Kitakomatsu, the route follows a busy national road. But then from Kitakomatsu to Katata, it follows a back road with less traffic. From Katata to Otsu Port, there is no designated bicycle path yet, so you'll have to use the busy roadway, which requires extra caution on this section of the route. For this reason, many take the Biwako-ohashi Bridge from Katata over to the east side of the lake, then backtrack south to Otsu Port.
One good tip when researching the route is to read some of the online reviews from people who've already cycled Biwaichi.
Car Parking
If you come by car and start around the Moriyama area, there is free parking at the Pieri Moriyama shopping center located near the east end of the Biwako-ohashi Bridge, as well as more public parking at Misaki Park. If you plan to start from other areas, please use paid parking, and do not use public business lots along the lakeshore, or other public facilities such as Michi-no-Eki roadside rest areas.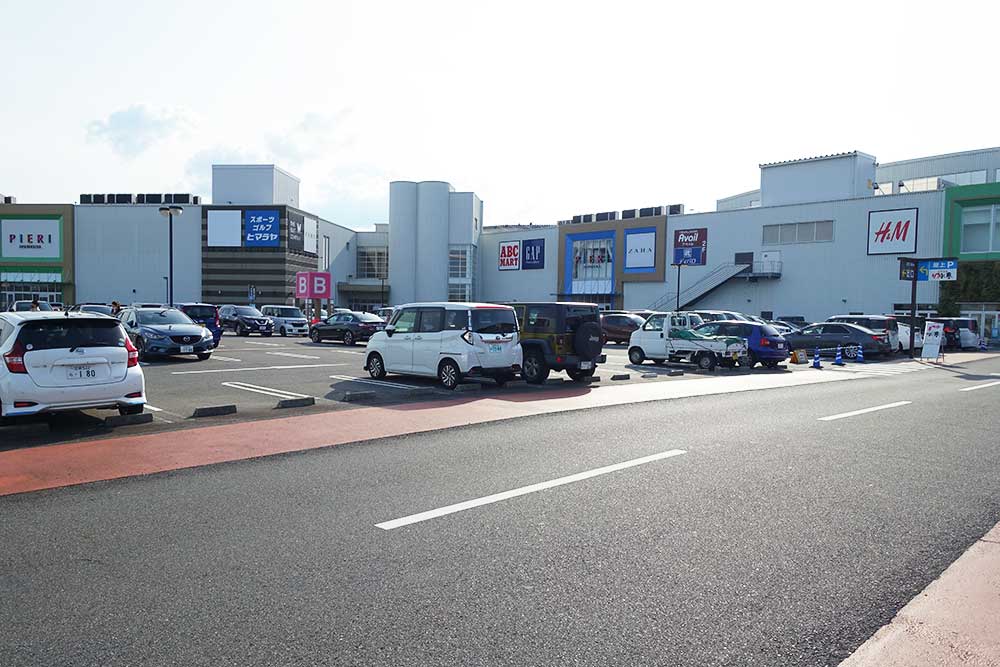 Pieri Moriyama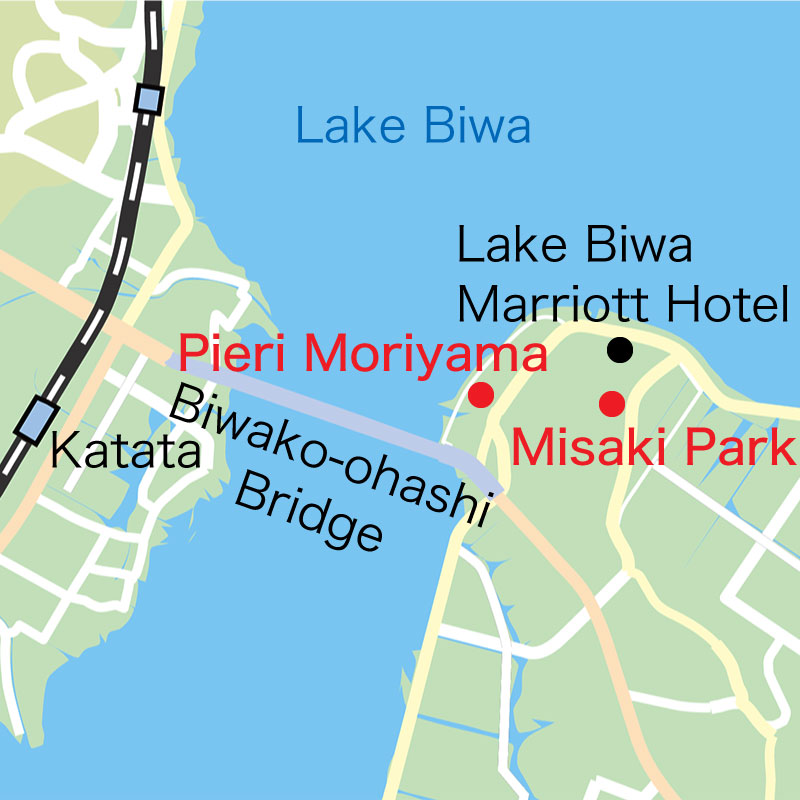 Accommodation
Although the northern and western sides of the lake are relatively rural, there are a plenty of overnight accommodations to choose from including hotels, ryokans, and guesthouses. These can be found and reserved through online accommodation sites.
Affordable dormitory-style accommodations are becoming popular and some such facilities have recently opened in cities and areas like Otsu, Omihachiman, Hikone, Makino, and Omimaiko. There are also many lakefront campgrounds along the route.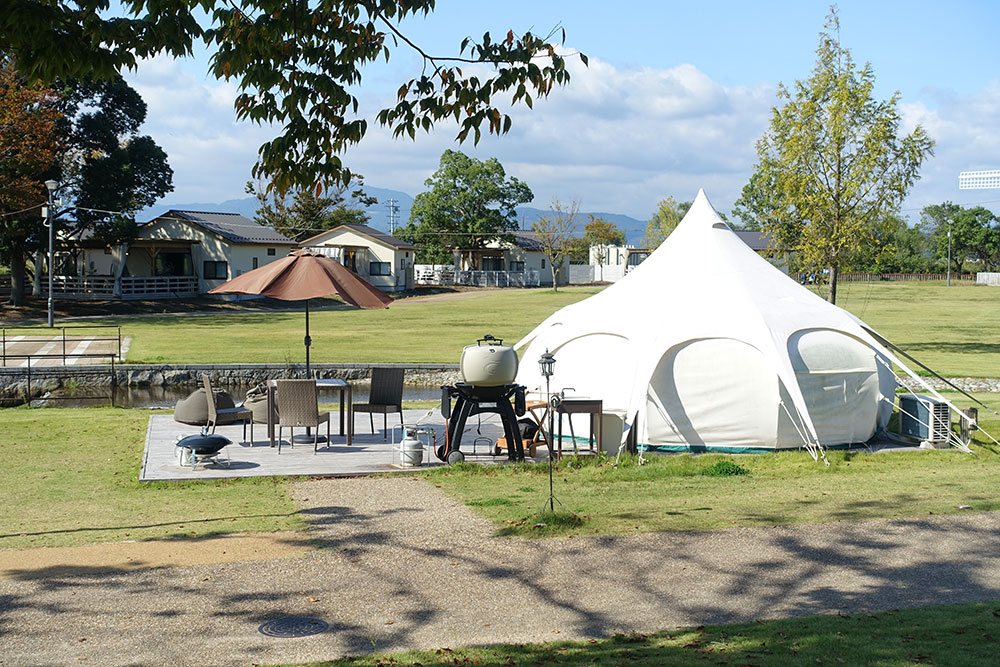 STAGEX Takashima
Free Wi-Fi Availability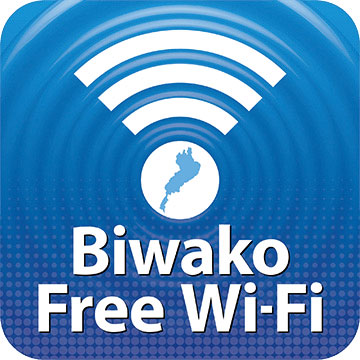 There are about 1000 free public Wi-Fi hot spots around the lake. Check exact locations at: https://biwako-wifi-info.jp/?locale=en
Itinerary Recommendations
Plan your trip at an assumed average speed of 12 km/h and include breaks.
For 2-Day 1-Night Trips
If departing from Otsu, you should consider staying the night somewhere around Kinomoto (approx. 96 km of riding). If starting from Maibara, somewhere around Omimaiko (approx. 85 km of riding) would be good.
For 3-Day 2-Night Trips
If departing from Otsu, you should consider stopping somewhere around Hikone (65 km) for the first night and around Omi-Takashima (80km) for the second night. If starting from Maibara, somewhere around Omi-Takashima (75km) would be good for the first night and around Omihachiman (86km) for the second night.
For beginners who are considering the 2-day and 1-night trip, it may be better to do the northern half of the lake (150 km total) instead of the full 200 km route, or you could also explore the possibilities and benefits of a 3-day, 2-night journey.
We recommend covering a shorter distance on the first day and giving yourself plenty of leeway to arrive at your lodging early. Get started as early as possible and plan out your ride so as to reach your overnight destination by 5:00 pm, especially if traveling between October and April when the sun sets earlier in the day.
Guided Cycling Tours
Full-service guided cycling tours of the Biwaichi route or other areas of Shiga are also available upon request. These tours also include rental bicycles and support car service. Contact the following tour operators: OHMI TRAVEL or RIDAS.