Biwaichi Basics
Bike & Equipment
Bicycle Options
We recommend light-weight multi-speed sports bicycles.
Road Bike
(Rated ★★★)
A road bike is built for road racing, so it is made to cover long distances at high speeds. However, you have to be somewhat used to the thin tires, drop bars, and forward-leaning riding posture. More recently, manufacturers have developed many long-ride models that can be ridden with a more comfortable posture for those who aren't looking for race-competitive speeds.
Hybrid Bike
(Rated ★★★)
Hybrid bikes, also known as cross bikes in Japan, are a hybrid between road bikes and mountain bikes. This style of sports bicycle comes with straight handlebars and slightly wider on-road tires. Though a cross bike does not reach the speeds of a road bike, it is operated much like a city bike, so first-timers will feel safe riding it.
Mountain Bike
(Rated ★★☆)
As the name suggests, a mountain bike is built for off-road riding such as on mountain trails. All Biwaichi courses travel on paved surfaces, so the mountain bike's deeper tire treads will meet with greater resistance.
Minivelo (small-diameter tire bike)
 (Rated ★★☆)
A minivelo uses small wheels of no more than 20 inches in diameter. Foldable types are great when combining riding with public transportation like trains, buses or ferries. However, the minivelo offers less riding performance than road bikes and cross bikes.
Japanese City Bike
(Rated ★☆☆)
This type of bicycle is widely popular for everyday use in Japan. However, it is not designed for long-distance travel, and is not recommended for any long trips.
Rental Bicycle Services
Please see more details here.
Transporting Your Bicycle
Here are some tips when bringing your own bicycle, according to different transportation types:
By Airplane
Either pack it in a container such as cardboard box with wheels removed (almost all sports bicycle wheels are removable), or put it in a bicycle travel bag or case, and check the bike at the airport check-in counter.
To avoid damage from handling, be sure to protect the bike with either a hard case or extra padding material.
By Train
Your bike needs to be packed in a bike travel bag when carried on trains, in order to keep the luggage compact. On bullet trains or express trains, there should be some space behind the back row of each car. Use this space for keeping your bag, or secure it by tying it somewhere such as a handrail.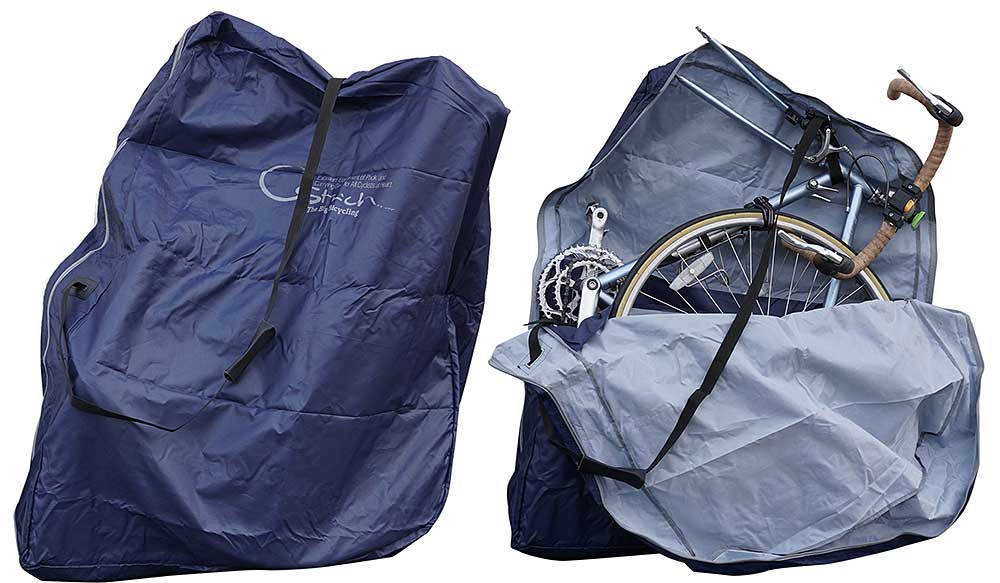 By Car
A minivan should have enough space to load your bicycle. For smaller vehicles, you can load by removing the wheels and putting them in the trunk, or by using a bicycle carrier on the roof or back.
Clothing & Carried Items
Bicycling is a sport, so choose clothing that is appropriate for sports activities. Minimize and bundle carried items into the lightest and smallest baggage that you can manage.
What to Bring on your Road Trip
Bags
Bags should be as light and compact as possible; the general practice is to carry only what can fit into a small backpack. Saddlebags or other kinds of bags that can be attached to the bike will lessen the physical load on your body. Bicycle panniers may be the best bag option since they offer optimal stability.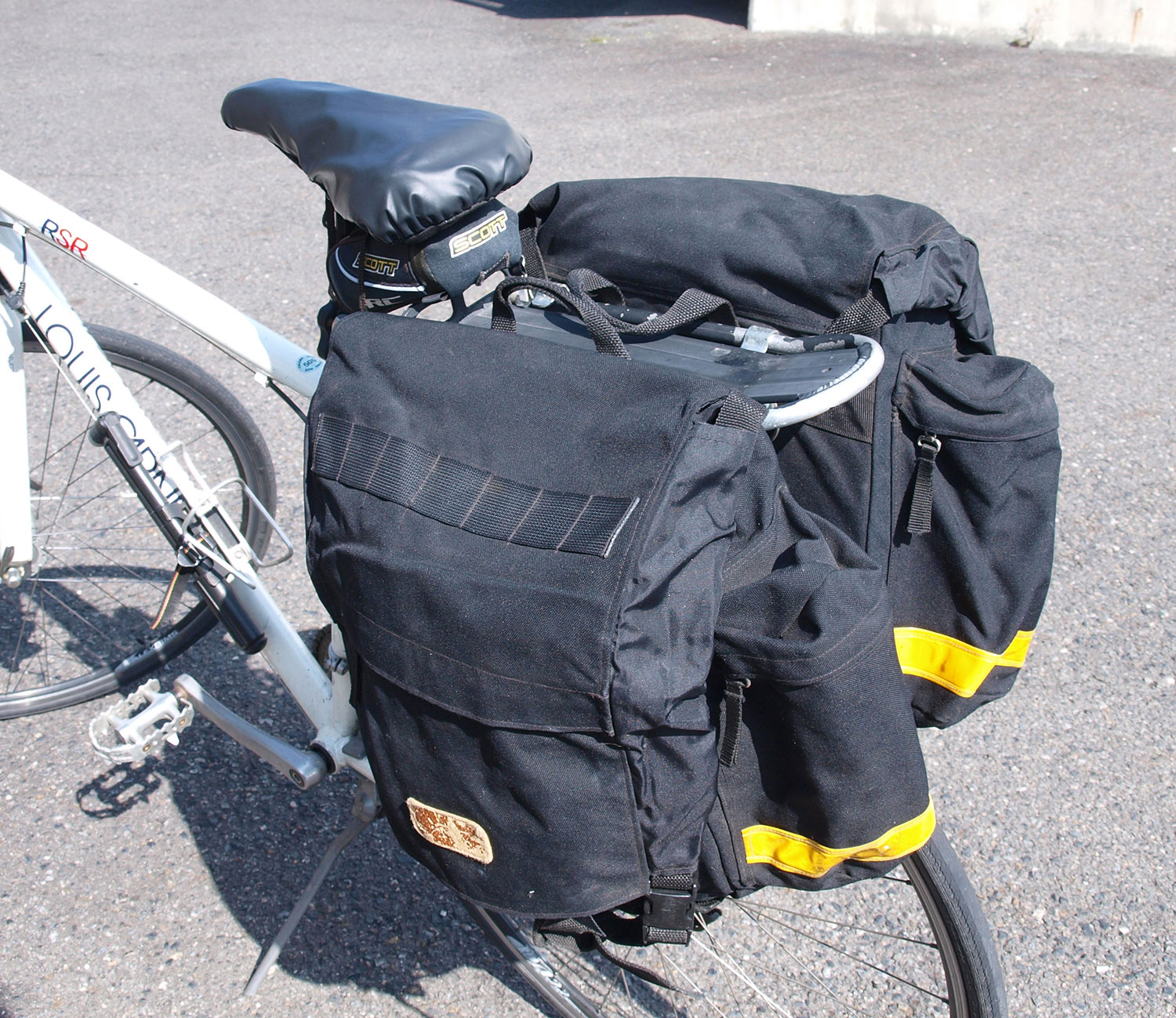 Drinks & Snacks
Frequent hydration is must, so be sure to prepare accordingly. Avoid drinking too much cold water, as well as high-sugar beverages since they may cause more fatigue or dehydration (although sugar intake afterward is good for recovering). Store your drink in a drink holder, but never drink while riding. At breaks, you might want to have some snacks to replenish your energy. Snacks and sweets are good since the sugar is quickly processed into energy.
Light
You will probably plan to finish cycling before dusk, however, you should have a light in case you're running behind schedule, and for riding through tunnels. Compact LED lights are popular among cyclists.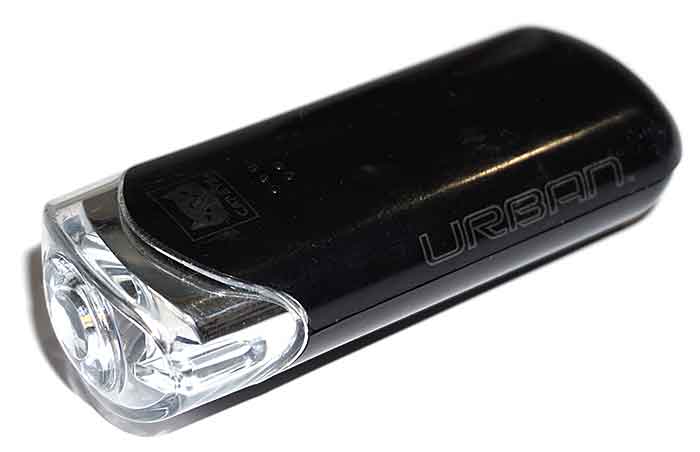 Flat Tire Repair Kit & Tool
The most common problem on bike trips is a flat tire. Be sure to pack a repair kit including a spare tube and portable pump. If traveling with a group, the load can be lessened by dividing the items across the baggage of multiple members.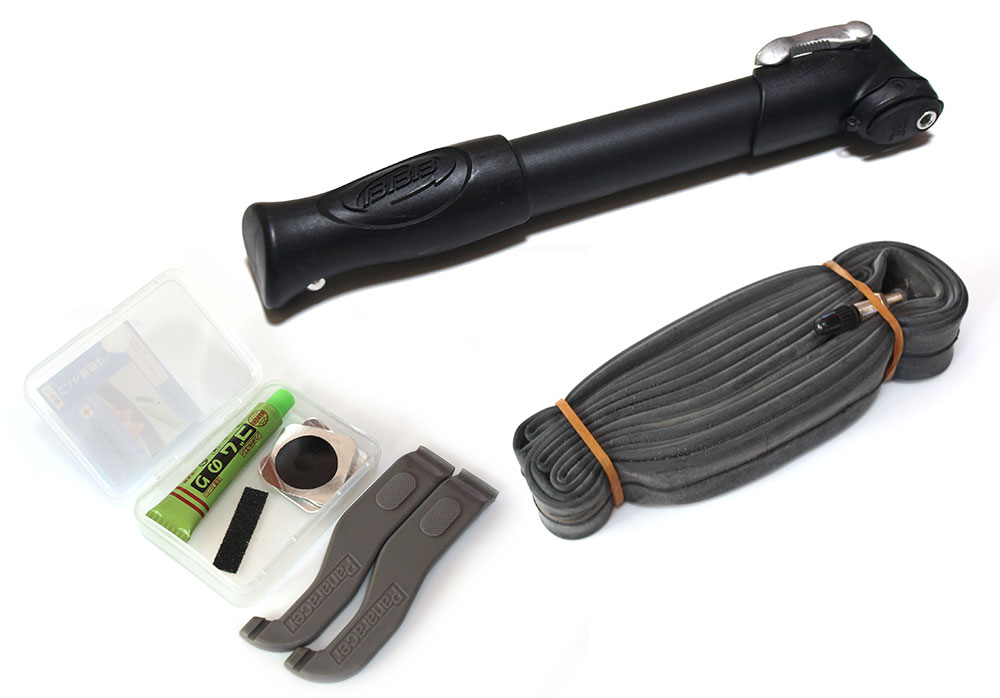 Map
Beyond paper maps, many people now use mobile apps or GPS device. The app called Biwaichi Cycling Navi is also available for your convenience to easily find and study the route.
First-Aid Kit
Bring at least one first-aid kit per group, for any sudden accidents. Also, carry your passport or a copy of insurance card in case of emergency.
*In case of an accident that requires you to stop the trip, then you may want to return by public transportation, in which case, it would be good to have a bicycle bag with you.
What to Bring with You
Water bottle
Food (portable supplements)
Flat tire repair kit (spare tube, portable pump and tools)
Bicycle lock
Change of clothes
Map
Rain gear
First-aid kit
Other (cash, credit card, smartphone, camera, etc.)
Inspection Before Riding
To ensure safe riding, check the following before heading out on your ride. If you do not feel capable of inspecting you bike properly, consult a bicycle shop, etc.
Tires
Check that your tires are properly inflated and not scratched, damaged or deformed in any way. Also, spin your tires by hand to ensure they're not warped.
Brakes
Try moving your bike forward and back with the front and rear brakes applied, and check that the brakes are working properly and are not loose. Also, check that the rubber brake shoes are not worn down and that the brake cables are not damaged in any way.
Tightness of Assembled Parts
Raise one tire at a time about 10 cm off the ground, then drop the bike and listen for sounds that might suggest loose parts. Check also that the handlebars and seat are aligned straight and tight.
Chain and Gears
Check your chain for dirt and grime. It should be lubricated only to the degree that it looks slightly wet. Also, check that your gears function properly.
Lights
Make sure that your front lights are sufficiently bright. (When riding through tunnels, you are required to turn your lights ON. On the rear, it is safer to mount a taillight that is set to blink the whole time you are riding, rather than rely on reflectors.)
Bell
Check that your bike has a bell and that it actually rings.
Position
Once your bike clears all of the above checks, check your riding position and posture.
The proper seat height is when your knees can fully extend while seated with your heels on the pedals. If the ball of your foot cannot touch the ground when seated, lower the seat slightly.
At that same height, try grabbing the handlebars and check that your posture is not too strenuous. If you are overextending, you should adjust the position of your handlebars.
Also, make sure that you can easily operate the brake and gear levers.
Insurance
Shiga Prefecture requires cyclists to obtain bicycle insurance. Travel accident insurance covering bicycle accidents is also available. Make sure to purchase coverage prior to your trip.
Biwaichi Official Map & Mobile App
Guide Map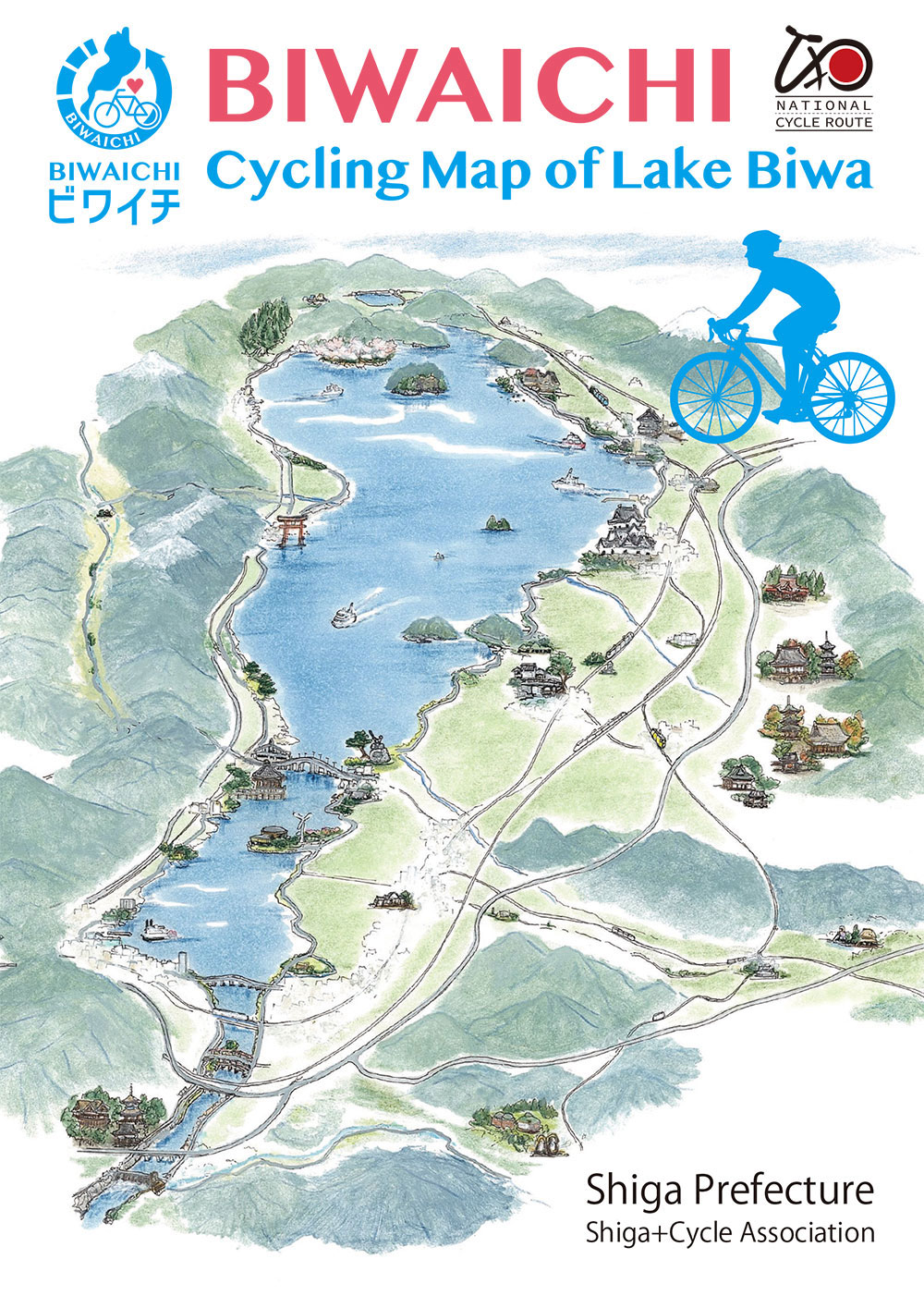 Mobile App