Biwaichi Basics
Trip Advice
Cycling Tips
You should know how to ride long distances without straining yourself, as well as the basics of riding a bicycle.
Using the Proper Gear
The best gear for riding long distances is that which makes it slightly easy to pedal. Switch gears as often as needed when climbing slopes or riding into the wind, so that you keep pedaling at a constant speed.
Taking Breaks
Rest for 5 - 10 minutes with every hour of pedaling. Longer breaks may be counterproductive.
Staying Hydrated
Cycling causes you to sweat more than you realize. It's best to hydrate yourself constantly rather than waiting until you feel thirsty.
Braking
The right brake lever controls the front wheel and the left controls the rear wheel in Japan. Braking with just one or the other can cause a fall, so brake with both hands.
Replenishing your Energy
Without eating, you may run out of energy and find yourself unable to ride. A hearty breakfast before setting out on your ride is particularly important. Replenish your energy often during your ride. With so many great food options along the way, why not try some of the local treats!
To Relieve Fatigue
Stretch a little before riding and massage your muscles during breaks. A good massage at the end of a day's ride greatly lessens the fatigue which can carry over to the next day.
Fatigue accumulates in the latter half of a trip and can cause you to hit obstacles you would otherwise avoid, or fall when riding over different levels, so be especially careful.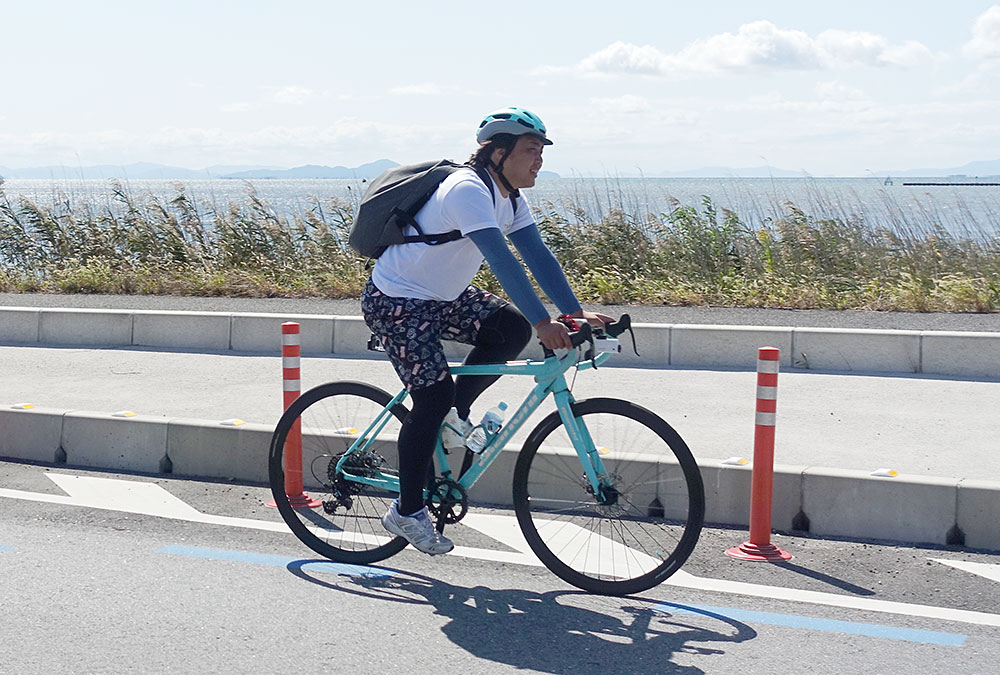 Bicycle Trouble
There are about 300 designated spots throughout the prefecture called Cycle Support Stations to assist cyclists with access to equipment such as pumps and other bicycle tools.
<Biwaichi Cycle Support Station Location Map (Japanese only)>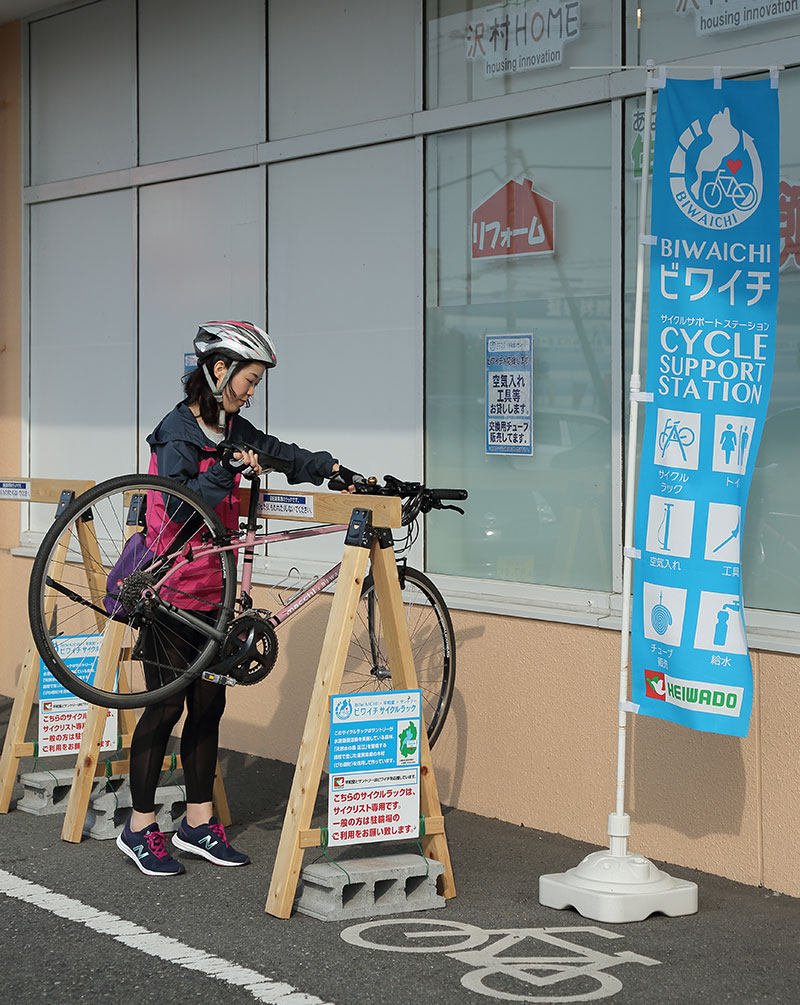 Sudden Weather Changes
Bring rain gear for sudden changes of weather. Gore-Tex™ rain gear may be the best option since it is rainproof, yet also allows good airflow. In case of severe rain conditions, you may want to consider stopping the trip, and returning in the future.
To Avoid Getting Lost
Follow the street signage and pavement markers such as the arrow markers and blue lines on the route.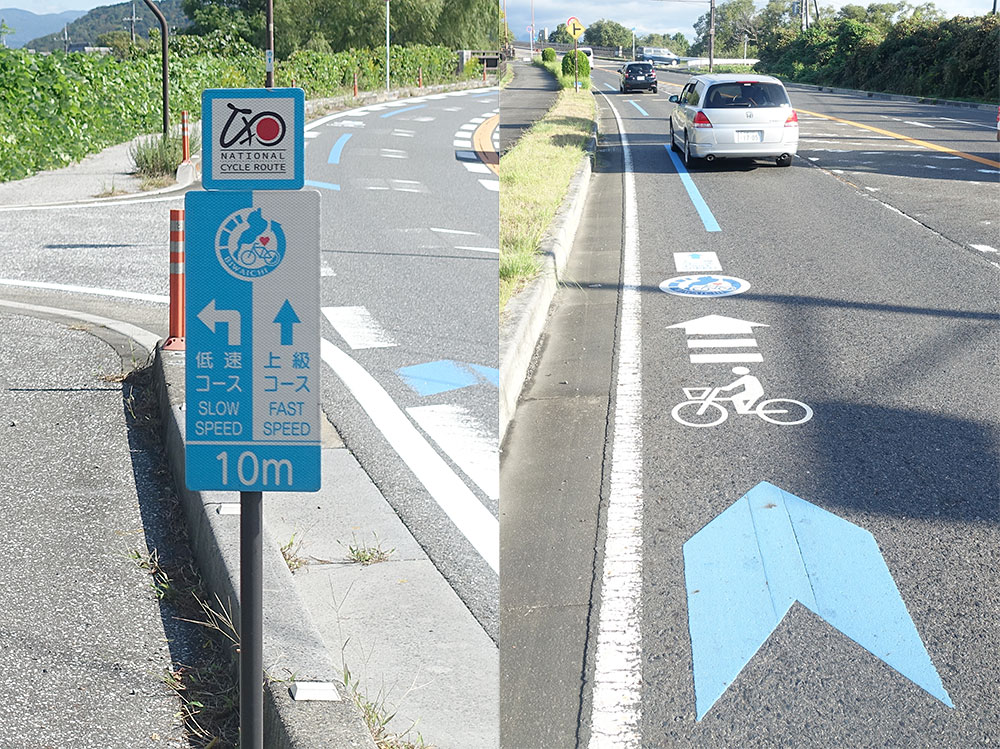 Some sections of the route lack these signs and markers, so please use a map or mobile app for guidance.
Long Distance Riding Tips
Ride at a steady pace using about 80% of your energy. Adjust the gear shift to keep the same speed. Instead of pedaling with heavy force, shifting to an easier gear that requires less force is the best way to maintain your pace and minimize fatigue. When going up a hill, shift down to an easier gear to keep a good steady pace.
To Avoid Seat Discomfort
One reason for bottom discomfort or soreness on long rides is that the saddle seat is lower than it should be (see the Riding Style section). Adjusting to the appropriate saddle position for good posture is very important; your body will naturally lean forward and your weight will distribute more evenly between the handles and seat.
Padded cycling pants or a bike seat cushion cover may also be a solution, especially for beginner cyclists.
If these measures fail to solve the problem, then further seat adjustments may be necessary such as changing to a different shaped seat, so consult a bicycle shop.
Restrooms & Breaks
You'll find occasional public restrooms and roofed rest areas around the lake. Their locations are marked on the Cycling Map of Lake Biwa. There are also cafés around the course, so you might enjoy checking some of them out as well.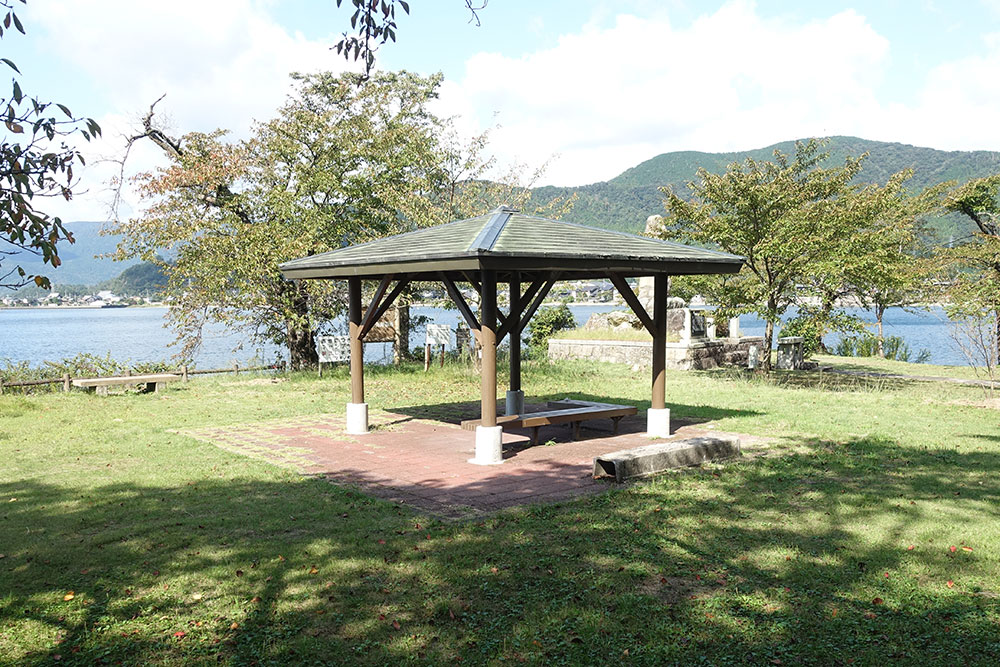 To Take a Shortcut
There are JR train lines that go around the lake, so if you pack a carry bag for your bicycle, you can stop anywhere and use the train to take a shortcut. There's also a ferry boat line that accommodates bicycles between Hikone Port and Makino Port via Chikubushima Island.